Christmas Day Dinner and Christmas parties in general can take a sour turn for the worse if someone starts talking about their job, or worse, politics.  The Christmas season is about spending time together, having fun, and talking about happy topics.
Or your husband is totally checked out checking his phone every couple minutes for the basketball score.
It's so easy to not be present so why not bring everyone's minds to the present moment of the Christmas Dinner Party and have fun doing it!
Most drinking games are designed to get you hammered drunk.  Disclaimer, not this one. Unless you really, really like politics or take too many selfies.  This drinking game brings about a fun happy approach to keeping your guests in the moment and giving the room a buzz.
I got this idea from a Christmas dinner drinking game that I saw on Pinterest, but the Christmas game was more for "secretive drinking".  For example, take a drink every time an elderly person says something slightly racist, or downright sexist, or you have to explain what you actually do to a relative, returned by a blank stare.
As you can see this secretive Christmas drinking game would be hilarious to yourself, but you would probably be the only person to be buzzed or drunk.  So then, if your family is any amount of fun like mine is, make it a whole table or party type of event.
How do you Play Christmas Dinner Drinking Game?
The game is super self explanatory, simple print out the downloadable printable (keep reading below), and place either on each persons table setting or as a welcome greeting at the door.  I put it in an empty picture frame at the door entrance for the party rules 🙂
Here are the rules:
The Christmas Dinner Drinking Game Rules:
Take a Sip: 
If someone asks "what do you do?"
Someone says cheers (of course)
Says Happy Holidays
Take 2 Sips:
Bringing up politics
Spilling a beverage
Saying "I don't like that type of food"
A happy announcement is made
Take 3 Sips: 
For taking a selfie
Looking at your phone
Complaining about a present
Take a Shot: 
Saying something negative about Christmas!
If you don't help clean up the table
We have created a high resolution printable that's free for the Christmas Dinner Drinking Game.  You can download and print yourself, or take to a printer.   It's created in 8.5 x 11 if you printed it to place in a picture frame.  If you intend on printing them for the dinner plates, print 2 per page so they are half size.
Click Here to Download Printable
Click here to go to Download Page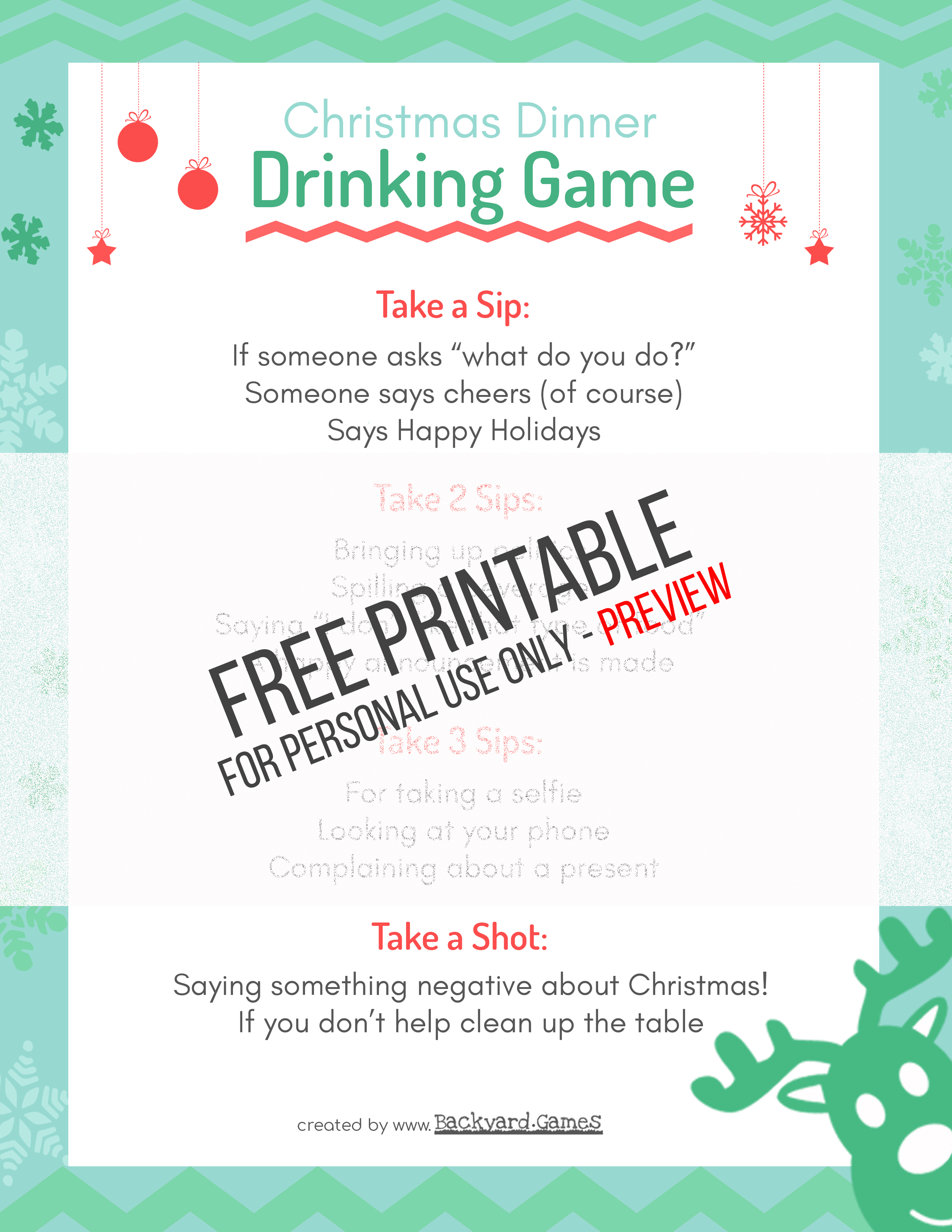 This the first post of many more to come for Christmas games and Printables.  Download the free printable for hilarious adult only "would you rather". or would you rather for kids.