Monopoly is one of the classic board games that is also a lot of fun to especially play drunk! Monopoly is one board game that should not need any introduction. Odds are you already have in your board game collection. It is one of the most loved board games in the world and why it is about time that we published the Monopoly Drinking Game Rules.
It may shock your friends for your next board game night when you suggest Monopoly until you suggest some of the exciting drinking rules. Time to stock up of your favorite alcoholic beverages, invite some friends over, and get ready to play on the of the classic board games.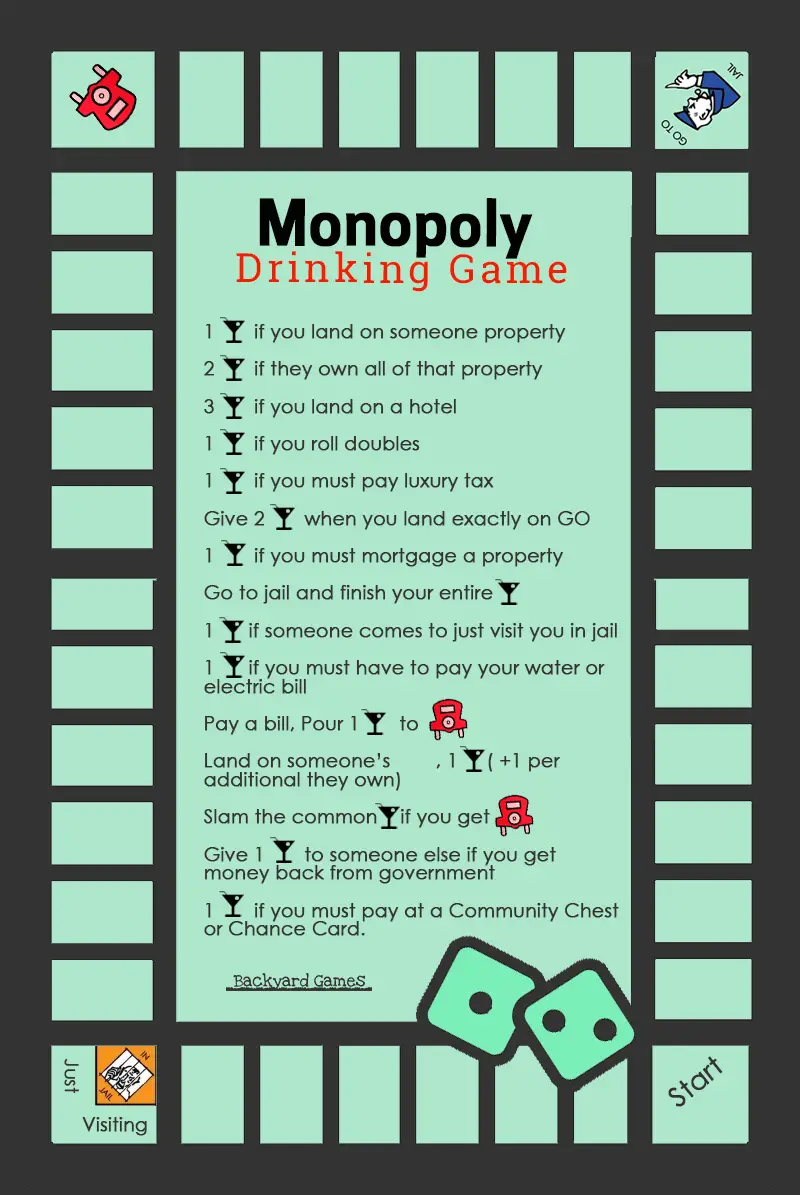 Share this Game on your Website!
What are the Monopoly Drinking Game Rules?
The Monopoly Drinking Game Rules are similar to the classic game but has an exciting twist. It may not say so on the official game rules but has a simple set of fun rules. From taking drinks when landing on another person's property or finishing the cup in the middle when landing on free parking.
1 drink if you land on someone property
2 drinks if they own all of that property
3 drinks if you land on a hotel
1 drink if you roll doubles
1 drink if you must pay luxury tax
Give 2 drinks when you land exactly on GO
1 drink if you must mortgage a property
Go to jail and finish your entire drink
1 drink if someone comes to just visit you in jail
1 drink if you must have to pay your water or electric bill
Pour 1 drink to FREE parking for any bills you must pay
1 drink if you land one someone's railroad (+1 per additional they own)
Slam the common glass if you get Free Parking.
Assign 1 drink to someone else if you get money back from government
1 Drink if you must pay at a Community Chest or Chance Card.
Here's a video we made of the rules for Drinking Game Monopoly:
Monopoly Drinking Board Game Sets
There are no winners or losers when you play the Monopoly Drinking Board Game! Normally Monopoly is a longer playing game and add in some drinks and creative rules and it can last all night. In most games you dedicate a banker who oversees finance, well you are going to need a bartender. They will be in charge for handing out drinks and making sure peoples drinks are filled. As fun as this game is game (sober or drink) I think we all must agree that the Monopoly Drinking Game is even better way to play this classic board game. Drinking Game Monopoly is featured on on our
20+ Drinking Card Games
.