When the kids are away it is the adults' turn to play! With the holiday parties under way sometimes it takes a good Christmas Party Game to get the party started. A good adult Christmas Party Game is not only an icebreaker but usually acts as an even better drinking game.
These adult board games usually lead to late-night laughter and lasting memories.
This is because they inspire cooperation, and competition, and typically let us get to know each other more. I separated the Christmas themed board games towards the end of our list.
Christmas Party Games for Adults List
This Ring Toss Game might be one of those games that will turn into a tradition. The game is just like ring toss but instead, you blow up an inflatable Reindeer Antlers and people will throw rings at it.
Take your best shot at landing a ring around the antler from 4 feet or further away. Each person starts off with 4 rings and the goal is to knock out as many competitors as you can.
Be careful not to miss a shot or the ring goes to the person you throw it against and have a drink. Maybe the person who loses one of the games below has to wear the antler hat for 30 minutes?
Or if you lose a bet during the day the antler hat is the bet. The silly possibilities are endless. Santa hats are so yesterday and antler ring toss hats are today.
Have you ever shown up to an Ugly Sweater Party without knowing and won the prize for the ugliest sweater? A hilarious theme for a Christmas party, challenge your guests to wear the ugliest Christmas Sweater they can find.
You know, like the ones that your Grandma knitted for you as a teenager with reindeer on the front. It will make for a fun evening when all your guests skip the fancy attire and instead are cozy and warm in the most cliche Christmas sweaters.
Since this party theme has quicked off, it's surprisingly hard to find these ugly Christmas sweaters at your local value village, so check out some of these beauties below.
3. Two Truths and a Lie (Christmas Edition)
Two Truths and a Lie is a classic Christmas party game for adults. Max 2 rounds per player to make this a fast game, and with this round they must tell 2 Christmas Gifts they got and 1 lie. For example, above clearly the lie is that Christmas is not the best holiday of the year. We love the Christmas season! Turn it into a drinking game where the person who tells the lie fools everyone and then drinks none. If you guess and are wrong then it's drinking time.
Before knocking beer pong, it is super important to note that it requires good hand-eye coordination and composure. And maintain that composure while being able to slam back a lot of alcohol!
Christmas Beer Pong isn't for everyone, but if it is for you, then at least make sure it is done through these "classy" holiday beer pong cups. Or your big party kid of the family might like one of these epic 15+ beer pong accessories under the tree.
Have you been naughty or nice this year? Bean Boozled is a Christmas Board Game that will help you find out and instead of getting a present, get some jelly goodness, or an interesting flavor instead of coal.
There is a naughty and nice spinner with a jelly bean set so you know what side of Santa's list you will be on. Spin the wheel to see if your treats will taste sweaty or nasty.
This could be a fun stocking stuffer game before opening presents, yes on Christmas you can have candy for breakfast. Or even play this game on Christmas Eve.
6. Oven Mitt Present Unwrapping
The Oven Mitt Unwrapping Game may have been on our kids list but is also a hilarious Christmas Party Game for adults!
Simple enough it's a race to unwrap Christmas Presents while wearing oven mitts.
Ideally, you would want boxes the same size and wrapped approximately the same quality. Perhaps a few layers and lots of tape will make it more infuriating. Either have it done in teams as a relay or timed individuals.
7. 20 Questions Christmas Edition
A classic Christmas Twist on a classic car ride game. Choose a person to think of a person, place or thing, Christmas themed of course!
Then the other players guess what Christmas item, person, or thing I am thinking of in less than 20 questions.
Asking questions like: Is it a person, place, or thing? If a thing can you get it from Wal-Mart? If yes which department? Then nail down the item. Do you have one in the house? Is it for men or women?
You can ask up to 20 of these questions until you get the correct answer. I also created 20 hilarious "would you rather questions".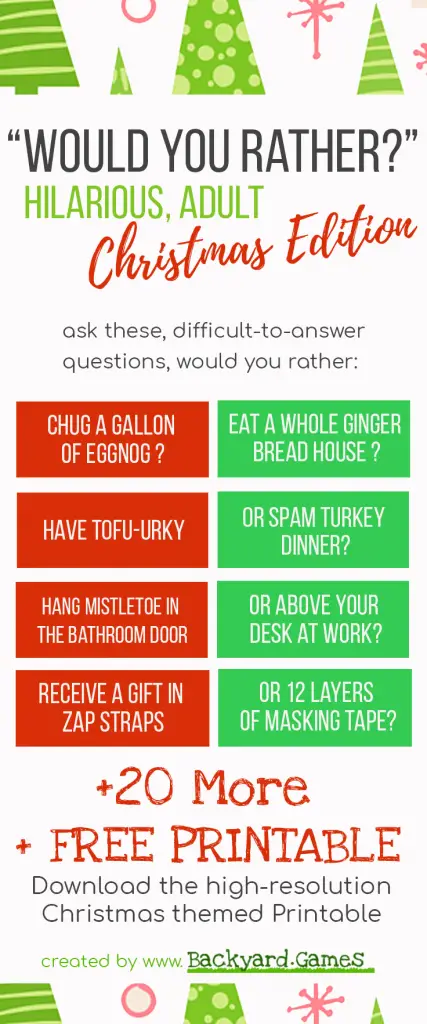 Would you rather buy Naughty or Nice? Or would you rather chug a gallon of eggnog or eat a whole gingerbread house?
I love Christmas parties, but sometimes they just need a conversation starter or two. You can play this as a game all at once with some funny questions or sprinkle them on notes.
Get 20 hilarious "would you rather questions" here. Plus we also created a printable to download.
Download this free printable and put at the front door or your Christmas dinner party or on each guest's plate.
It's also a hilarious way to keep your party in the moment, aka look at your phone, take a drink! You can also add your own rules for this. Get the Christmas dinner drinking game rules and free printable.
I created this game because I saw someone create a Christmas dinner drinking game to play to themselves, take a drink when grandma says something slightly racist.
But my family and friends are enough fun that it's definitely better played with everyone. Otherwise, you might just be the signature drunk at the Christmas party.
10. Christmas ABC's Game
The Holiday ABC's is a Christmas Party Game for Kids or Adults that does not need much. Just a few pieces of paper and some quick vocabulary skills.
This is a race for the true Christmas fans who love the holiday as much as we do.
In this game, write a word that starts with each letter of the alphabet. The first person to finish the Christmas alphabet wins! 7 seconds get deducted off your total for each word if some of yours are not correct.
For adult drinking game rules, take a drink for every one you get wrong. For something like X that is incorrect or takes 14 seconds, take a drink.
11. Holiday Misfortunes Voting Game
There are a few variations of this game and you can make it as funny or cruel as you like. Might be a fun way to kick off the Christmas breakfast or a Christmas party dinner. Place a balloon under each person's seat with a card in the balloon. Take turns popping their balloon and reading the card. Some questions might be, ask the question then on the count of 3 points to the person they think:
Who will go for dessert first, then everyone around the table on the count of 3 points to the person they think will.
Who would win a hot dog eating contest?
Who is most likely to drive home drunk?
Which couple will fight?
Who has a Costco sized pack of condoms?
Who would be picked first for a threesome?
Whoever has the most people pointing at them must drink and get the point.
12. Wreath Basketball Game
This has to be the best Christmas party game for large groups of adults. It is so simple you will ask why you have never played it before. All you need is a hoop and a bunch of ping-pong balls. With this, you need to grab a partner and see who can get the most balls throw the hoop.
One partner is blindfolded and the other partner needs to guide them on where to throw it. The last suggestion is to set a timer of about 30 seconds or 1 minute and just wait for the fun to commence.
13. Ornament Guessing Game
When your guests arrive, they have 20 seconds to guess how many ornaments you have in the tree. Closest guess wins! Another version is how many Candy Canes you have in the tree, M&M's in the jar, or how many beers Jimmy will drink.
The winner gets the choice of the first drink or a special chocolate.
Instead of having guests sign a guest book you may as well make a hilarious photo collage that everyone will remember for years to come even if they drank too much that night.
By going to the dollar store, second-hand store, or having everyone come in their own ugly sweaters the prop possibilities are endless.
Christmas photo booths don't need to be overly complicated, find a good back drop in your house and use your own phone for taking the photos.
For a backdrop, a fire or Christmas Tree works wonderfully, or grab a Christmas-themed shower curtain from the dollar store and hang it on a wall. Here is a fun photo frame and props you will love.
and now begins my favorite part of the Christmas Games for Adults list. Drumroll, the Christmas themed board games!
I LOVE board games, which I'm sure most of your family and friends probably enjoy a good group game or too. So at Christmas, it's one of the best times to enjoy a board game with friends.
Here Are Our Best Christmas Themed Board Games:
Keep reading to find out more about each, especially the Jesus vs. Santa game.
When creating the best Christmas Party games for adults list we thought it would only be right if we started off with a Cards Against Humanity Holiday Pack.
The Humanity Hates the Holidays Card Game can be incorporated as an unofficial expansion pack for the original game or is fun to play as a small mini-game.
There are only 80 cards and 30 questions so is not a game you will be playing regularly but makes a special Christmas Game Night!
Each player takes turns as the judge and chooses the best card that matches the black question card.
There are numerous official cards against humanity expansion packs to add on to the original game.
Unlike the official expansion packs, this version can be played stand-alone just for Christmas.
Just like in our drinking card games list, you can add a drinking component by having the player who contributed the worst card drink. Click here to get the latest price.
This is one of those adult board games that will leave the entire party in tears! Hopefully, they are in tears of joy or laughter. Since the beginning of time, people have always wondered if it is Santa or Jesus that rules Christmas.
Time to find out in the Santa Versus Jesus Christmas Party Game for Adults. Players split into two teams and battle who can earn the most believers.
There are puzzles, riddles, brain games, and many more challenges.
Bringing back the classics in a Christmas rendition. If you remember playing the classic Operation Game, Tim Burton and the Team at Nightmare Before Christmas made a special edition and holiday game.
Act as the surgeon and remove parts up to 12 different parts from your hilarious patient Oogie Boogie.
Sandy Claws has been kidnapped! Solve the mystery of who kidnapped him, what item was used, and where he was hidden in time to save Christmas!
We love Clue!!! This is a great game, so why not try the rethemed version by Tim Burton, The Nightmare Before Christmas?
You must find out who kidnapped Sandy Claws, but other than that the rules for play are the same as for the original game of Clue.
Monopoly is one of the classic board games and playing the Christmas Story version makes it even more of a holiday favorite. Based on the popular movie "A Christmas Story" it relieves the most memorable scenes from the film.
If you want to add some Christmas shenanigans into the mix, check out our Monopoly Drinking Game Rules.
In the original Trivial Pursuit, you win by answering general knowledge and popular culture questions. Therefore, this holiday version of Trivial Pursuit makes it such a good Christmas Party Game for adults.
The 400 questions are all about songs characters, and other questions regarding the holiday movie and Christmas. Get into the Christmas spirit and freshen up your Christmas knowledge.
Another game by Tim Burton in the Nightmare Before Christmas game series.
It may not be the most exciting game but playing some holiday-themed puzzles will stimulate the brain and provide hours of fun.
This is a full book of crossword puzzles, sudoku, star power, and picture this. Many different puzzle types appear in Brain Games Christmas Puzzles, such as crossword, word search, sudoku, picture this, and star power.
This is a game you can play while traveling, a bus, plane, or even around the morning.
The goal of charades is to act out a word without speaking so your team mates can guess it. The Christmas party Charades game for adults is very similar just has the holiday suggestions.
How to describe Mrs. Clause without saying anything? You can make your own, download a printable version, or buy one for under $15.
Here is a Christmas Charades version we played in our house last holiday season.
We wanted to keep this entire list specifically to Christmas Games but there are so many AWESOME party board games you can play.
The Voting Game, Pick Your Poison, Taboo, Hot Seat, Go Fish, and many more. We created a list with over 24 of the best board games and card games for adults.
Just some of the games that you will find on this list:
Yahtzee is one of the classic board games and even better to play in the holidays with the Christmas Editions! Today you get to choose from either the A Christmas Story or A Nightmare Before Christmas Editions.
In Mad Libs, players use the world-filled game cards in their hands and combine them to make sentences and play the most hilarious sentences possible.
All the players vote on the funniest sentence they win! Add in some holiday spirit with eggnog the Christmas Mad Lib Game for adults for fun-filled evenings.
As much fun as the list above is sometimes all you need is a classic deck of cards to have fun. For those wanting to keep it simple but still have lots of fun for your next Christmas Party we created a list of 25+ drinking card games.
These games include Kings Cup, Ring of Fire, Big 2, and many more that are specialty card games.
Why not enjoy those games with some Christmas-themed cards, the National Lampoon Christmas deck of cards is our favorite! With just a simple deck of cards, there is a plethora of games that you can play.
I hope this list imparted some ideas to play over the Christmas season, if you are looking for games to play with the kids or as a family, check out our Christmas Games for Kids list.